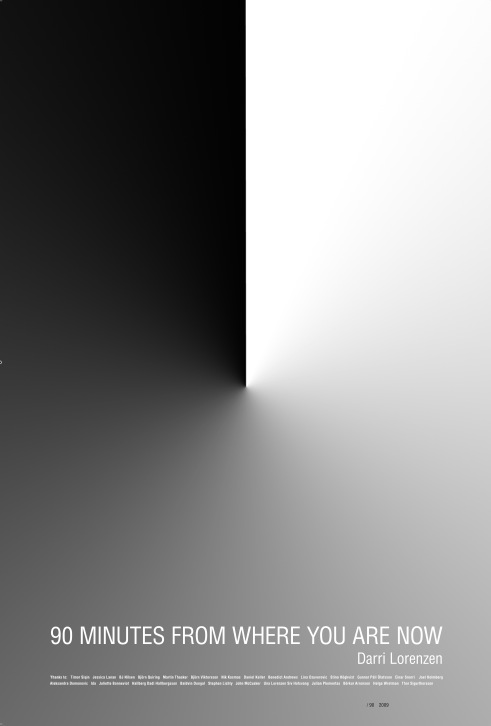 One sheet movie poster / 686x1020mm / offset print
Editioin of 90 signed copies.
90 MINUTES FROM WHERE YOU ARE NOW (2009)

DCP (Digital Cinema Package)
Surround sound 5.1
Variable time - 20 minute loop
CGI and editing: Timur Siqin, sound mixing: Björn Viktorsson (Bíóhljód), actress: Jessica Lanan, photography: Martin Thacker, Thanks to: BJ Nilsen, Björn Quiring, Börkur Arnarson, Benedict Andrews, Nik Kosmas, Daniel Keller, Stephen Lichty, Aleksandra Domonovic.
Originally produced for MOMENTUM 2009 - 5th Nordic Biennial of Contemporary Art | Favoured Nations.
*
90 Minutes from Where You Are Now (2009). In it, gradual changes occur: the screen lightens or darkens, the black rectangle is "folded back," a blue image or the superimposed head of a woman appears. All of this is accompanied by a soundtrack that occasionally reacts to the visual changes, while, at other times, fills the room with an unrelated sound, or else is completely silent. The projection surface, sound, light, and colors are the protagonists in Lorenzen's film, which is simply about the creation of spaces and atmospheres--in other words, about film itself.
Kathrin Meyer. In Point Of Fact, Berlin: Krome Gallery, 2010, p. 37-38